Application of E722i series embedded industrial computer in the field of intelligent construction site
Background
With the rapid development of society and the continuous improvement of the construction market, the volume of construction projects across the country has gradually increased, and the environment on construction sites has become more complex, and at the same time, various safety production problems have been exposed. With the rapid development of new technologies such as 5G, the Internet of Things, big data, artificial intelligence, BIM, and mobile Internet, the development path of the construction site is affected and gradually changes to "smart". "Smart construction site" combines artificial intelligence, sensing technology, machine vision, virtual reality and other high-tech technologies, and at the same time implants these technologies into various objects such as buildings, machinery, personnel wearable facilities, site entry and exit gates, etc., to establish " The construction project information ecosystem of "interconnection, collaboration, intelligent production, and scientific management" can identify and prevent safety accidents on time, and improve the efficiency of construction operations.
Application requirements
The construction site environment is complex, and the high-risk building scenes on the traditional construction site mainly rely on artificial visual recognition, so it is difficult to detect dangers in advance and take preventive measures while safety is insufficient. At the same time, there are complex personnel on the construction site, there are great challenges in employee management and control, and the convenience is insufficient. "Smart construction site" has the following requirements for the safety protection management system:
1. Simultaneous monitoring of multiple places: 24-hour situational awareness in multiple places such as construction work areas, employee living areas, and entrances and exits, so that you can check the live situation at any time and respond to emergencies promptly;
2. Personnel behavior and clothing recognition: it can accurately detect human objects and realize snapshots, real-time and accurate recognition of employee clothing and posture;
3. Send warning alarms in time: In case of violations such as high-altitude throwing objects, not wearing safety helmets, smoking on the construction site, illegal parking of non-motor vehicles, etc., warning alarms can be triggered automatically and in real-time;
4. Improve operational efficiency: reduce labor management costs, real-time inspection and supervision, and improve production efficiency.
Product Recommend
To meet the needs of "smart construction site" applications, Zhuoxin Chuangchi recommends the E722i series embedded scalable industrial computer, which has the following characteristics:
Intel 10th generation Comet Lake series processor platform;

2 x DP and 1 x VGA display interface, resolution up to 4K UHD, support dual independent display;

2 x DDR4 SO-DIMM slots support up to 32 GB memory;

1 x PCle Gen3 x16, 1x PCle Gen2 x2 or PCI slot;

6 x Gigabit LAN (5 x Intel i210/i211-AT, I x i219-LM);

4 x USB 3.0, 4 x USB 2.0;

2 x RS-485/RS-232, 2 x RS232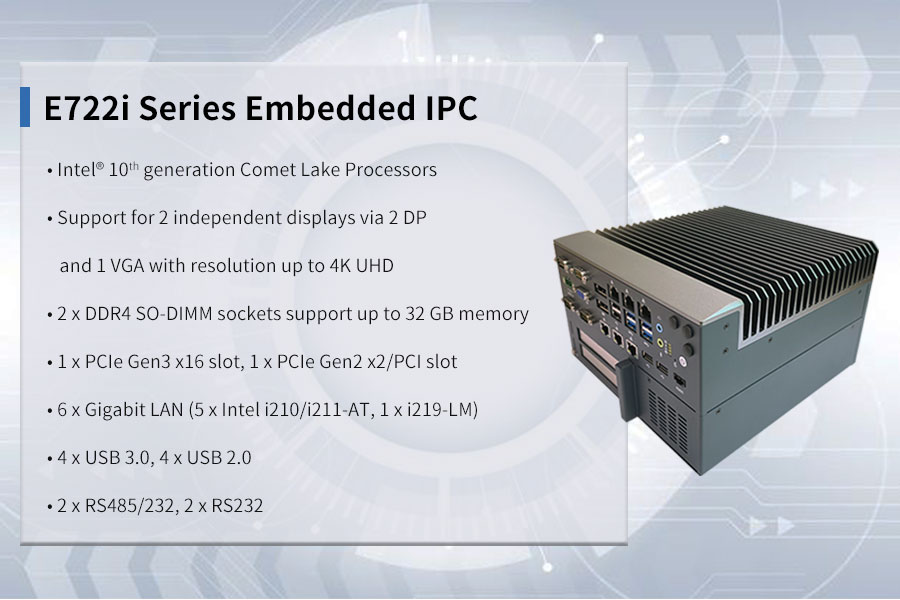 Field Application
After the front-end acquisition equipment (camera, sensor) collects images, sensor data, etc., the collected images and other data are uploaded to the user's software running module through the gateway, and then the software processes the collected images and other data, and the image Perform visual recognition, and if dangerous information is identified, the system will send an alert to the user.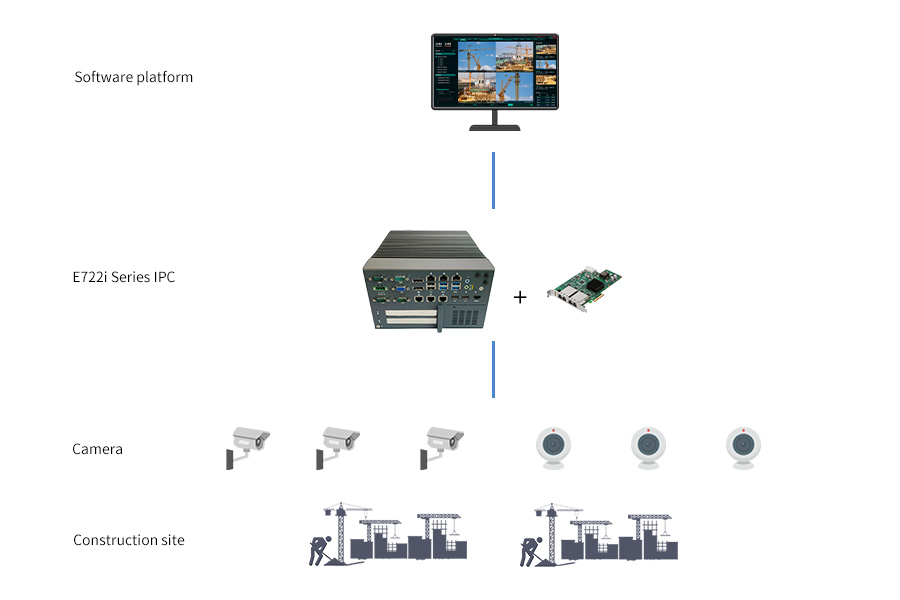 To detect danger in time, the response time of the system is very important. As a hardware platform with software, the E722i is an excellent choice. E722i is based on Intel's 10th generation processor platform, which runs efficiently and stably. 4 serial ports, 6 network ports, and 8 USB ports can be used for rich equipment expansion, and can simultaneously receive real-time images from different cameras and collected data from sensor devices; in addition, E722i also has 2 PCIe/PCI Expansion slot, so you can expand the network port or USB port through the network card to expand the number of images that can be received.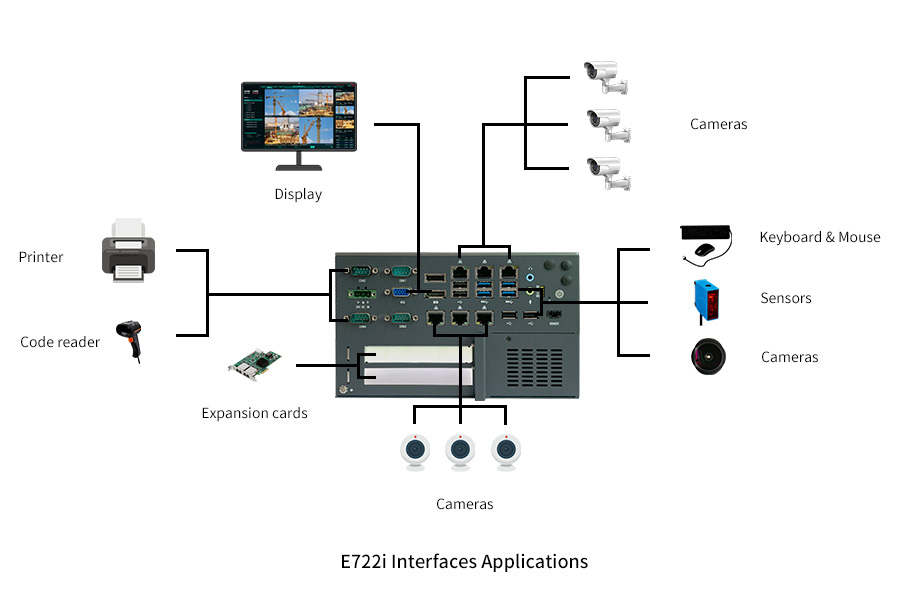 Application advantages
1. Powerful performance and efficiency: E722i is based on Intel's tenth-generation Comet Lake series processor platform, with powerful data processing capabilities. As a hardware platform for visual software analysis and image processing, it provides good computing power support, fast response and output analysis As a result, the safety of on-site operations at the construction site is guaranteed;
2. Rich interface and diverse expansion: E722i is equipped with a variety of expansion interfaces and has 2 expansion slots. After expansion through the network card, it can receive and process real-time images of more than 10 cameras at the same time, and monitor and identify multiple scenes at the same time;
3. Compact and stable operation: E722i adopts an industrial-grade motherboard and solid metal casing, which has been verified by various industrial tests and can run stably in industrial environments for a long time. At the same time, the E722i adopts a compact design to save space, and the installation process is simple to improve space utilization.
As the hardware support platform of the "smart construction site", the E722i is equipped with software such as visual analysis, which can quickly respond and output processing results, and detect potential dangers in time, ensuring the safety of construction site operations, improving production efficiency, and realizing construction site technical intelligence and work. Internet, information sharing.