Background introduction
In recent years, under the background of the general trend of global carbon neutrality, the new energy vehicle market has developed rapidly and sales have increased significantly, which has driven the continuous development of the upstream lithium battery manufacturing industry in the industry, and the global lithium battery industry has maintained a high level of prosperity. With the support of government policies and the growing market demand for lithium batteries, China has made various improvements and breakthroughs in various related technologies in the field of lithium batteries, and the domestic production of lithium batteries has increased significantly. On the whole, the lithium battery production process can be roughly divided into three stages: front, middle and back, with a total of 21 processes, which is a very complicated and delicate process. In these processes, the application of machine vision is inseparable. Whether it is from the front-end stirring coating or the back-end formation, packaging, etc., the positioning, identification, measurement and other functions of machine vision will be used. Therefore, an excellent visual inspection equipment is indispensable to ensure the quality of lithium batteries.
Application requirements
Take the sealing nail welding in the middle section as an example. Sealing nail welding is also called liquid injection port welding. After the electrolyte is injected into the battery, a rubber plug needs to be plugged and immediately sealed by laser welding, thereby isolating the entire winding core from the external environment. Form a closed electrochemical system. In this process, the difficulties are as follows:
1. During the process of liquid injection and transportation, the electrolyte will remain in the housing tank of the cover plate, and crystals will form after standing for a long time. When the sealing nails are welded, inclusions or explosion points are often prone to occur. Welding defects will cause power battery failure. The performance is greatly reduced or even scrapped;
2. The position of welding defects of sealing nails is random, the shape is different, and the edge is difficult to define, which has strong randomness;
3. This process requires machine vision inspection equipment to achieve high-precision and high-stability inspection flexibly and efficiently.
Products Recommended
In view of the high requirements for visual inspection equipment in the sealing nail welding process, Zhuoxin Chuangchi E612i series embedded industrial computer can be used as
The core hardware equipment of the visual inspection system is equipped with visual processing and analysis software to become a PC-based visual control system. E612i has the following product features: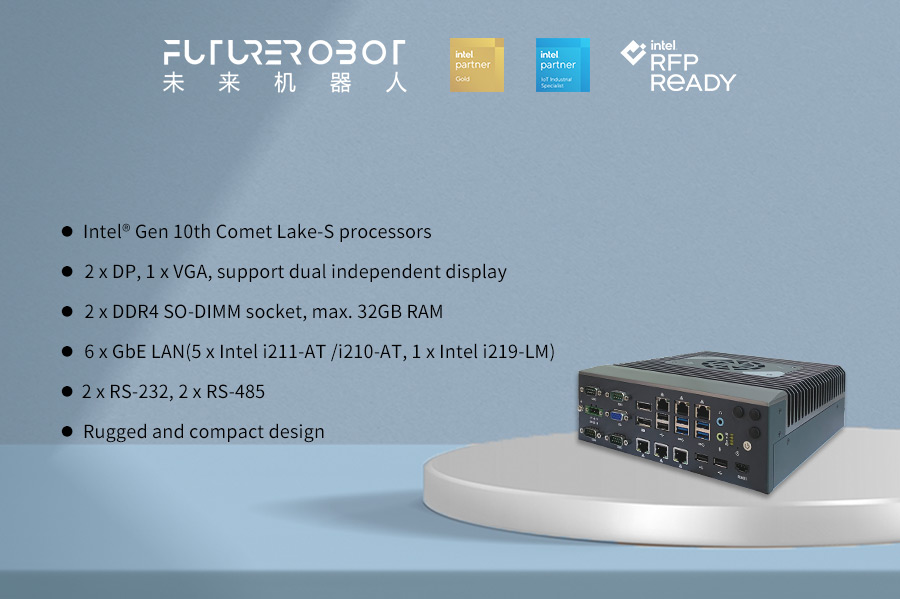 Intel® 10th Generation Comet Lake-S Processor

2 x DP, 1X VGA, support dual independent display, resolution up to 4K UHD

2 x DDR4 SO-DIMM memory slots with a maximum capacity of 32GB

6 x GbE LAN (5 x Intel i211-AT /i210-AT,1 x Intel i219-LM)

2 x RS-232, 2 x RS-485

Rugged and compact design
Field Application
The E612i series embedded industrial computer has rich interfaces, which can expand various devices such as industrial cameras, light source equipment, sensors, etc. The images and other data collected by these devices are transmitted to the E612i, analyzed and processed by the equipped visual processing software, and then processed according to Certain judgment conditions are used to detect and classify lithium batteries.
Examples of product interface applications are as follows: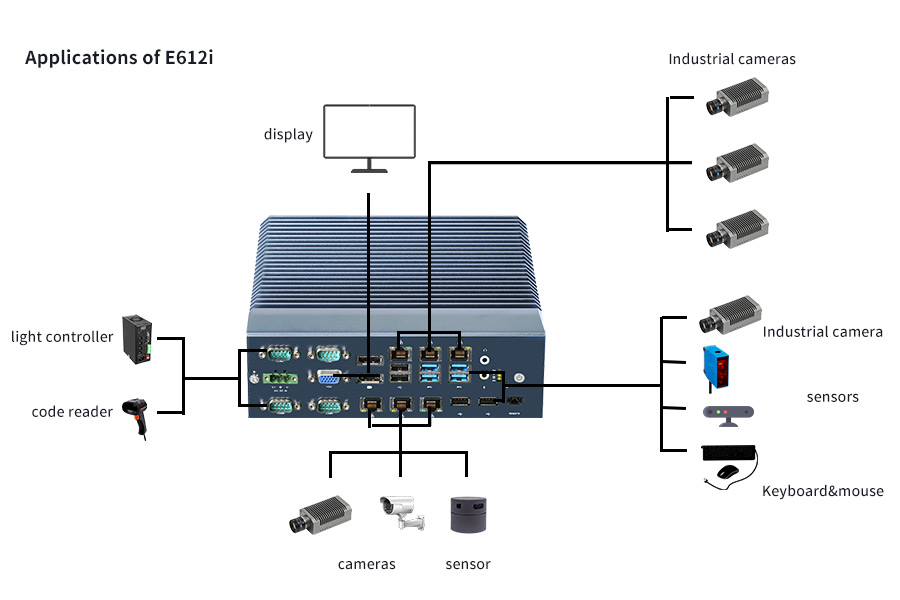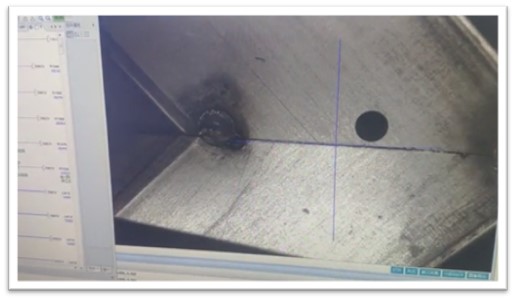 Product advantages
1. Powerful, smooth and efficient computing power: E612i is based on Intel's tenth-generation Comet Lake-S processor platform, which has powerful data processing capabilities, provides good computing power support for visual software to analyze and process images, and can quickly output processing results ;
2. Rich interfaces and various extensions: E612i is equipped with a variety of expansion interfaces, which can be compatible with different software, hardware and terminal equipment. It can control multiple cameras to shoot at the same time, and inspect products in multiple directions to improve inspection efficiency;
3. Compact and sturdy, stable operation: E612i uses an industrial-grade motherboard and a solid metal case, which has been verified by various industrial tests and can run stably in an industrial environment for a long time. At the same time, the E612i adopts a compact design, which is small in size and saves space. At the same time, the installation process is simple and the space utilization rate is improved.
In the future, Future Robot will continue to explore and innovate technologies to create a powerful hardware support platform for machine vision, automation and other related applications in the lithium battery industry, helping enterprises in the lithium battery industry to produce efficiently and accurately control quality.