Background
In recent years, major economies around the world have implemented reindustrialization strategies, and the core of this strategy is to promote the transformation and upgrading of industrial intelligence. With the rise of concepts such as Industry 4.0, Industrial Internet, cloud computing, and edge computing, major manufacturing companies have begun to build smart factories, transforming and upgrading from traditional manufacturing to intelligent manufacturing. To build a smart factory and realize digital transformation, the key is to solve the integration of IT and OT. The good integration of IT and OT helps to optimize industrial business processes, analyze industrial process data quickly and accurately, and discover risks in industrial processes in a timely manner.
The product mainly introduced in this article is the E600i Series Fanless Embedded Industrial Computer, which has the advantages of high performance, high integration and high reliability. It can perform edge computing, build a bridge between IT and OT, bridge the gap between them, and help factories intellectual.
Technology
The E600i Series Embedded Industrial Computer based on Intel's 11th-generation Tiger Lake-U platform processor, which ensures the product's performance and can be applied in different industrial scenarios. At the same time, it has 1 DVI-I interface, which can transmit image information quickly and clearly; 2 DDR4 SO-DIMM slots support up to 64GB memory; 6 network ports are independently controlled by 6 Intel i211-AT chips, and 4 of them support POE. TSN time-sensitive network to ensure real-time, deterministic and reliable data transmission in industrial processes.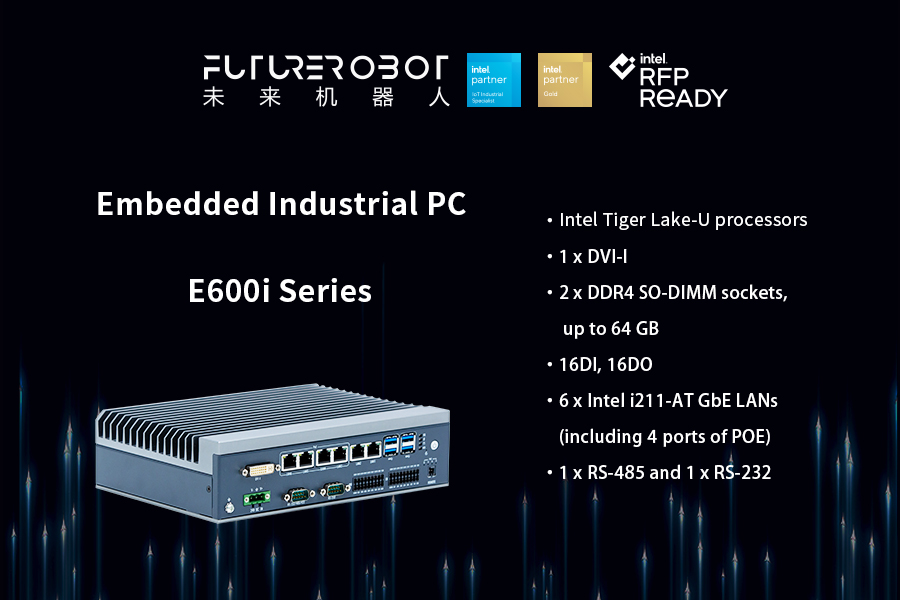 Solution
A customer of Future Robot is engaged in industrial automation production in China. He often encounters the following problems in the business process: (1) The system is unstable during operation, and occasionally crashes. (2) The communication response time is too long, and the equipment runs slowly. (3) The control is not precise during the operation of the equipment. (4)The machine has poor compressive ability under some severe conditions.
After understanding the customer's needs, Future Robot used the E600i series Embedded Industrial computers, end-side data acquisition equipment, industrial cameras and other product portfolios to create an edge computing platform tailored for a domestic customer. E600i series Embedded IPCs are based on Intel's 11th generation Tiger Lake-U platform processor, which has powerful performance and can transmit data at high speed and in real time. At the same time, it has rich expansion interfaces, including 6 Ethernet interfaces controlled by independent chips, 4 USB 3.0, 16 high-speed DI/DO. Customers can connect multiple industrial cameras through the Ethernet interface and USB interface of the E600i series embedded industrial computer. After the industrial cameras capture images from different angles and transmit them to the E600i, the E600i analyzes and processes the received data, and then passes through the high-speed pulse function. The DIO interface realizes precise control of servo motors and field devices.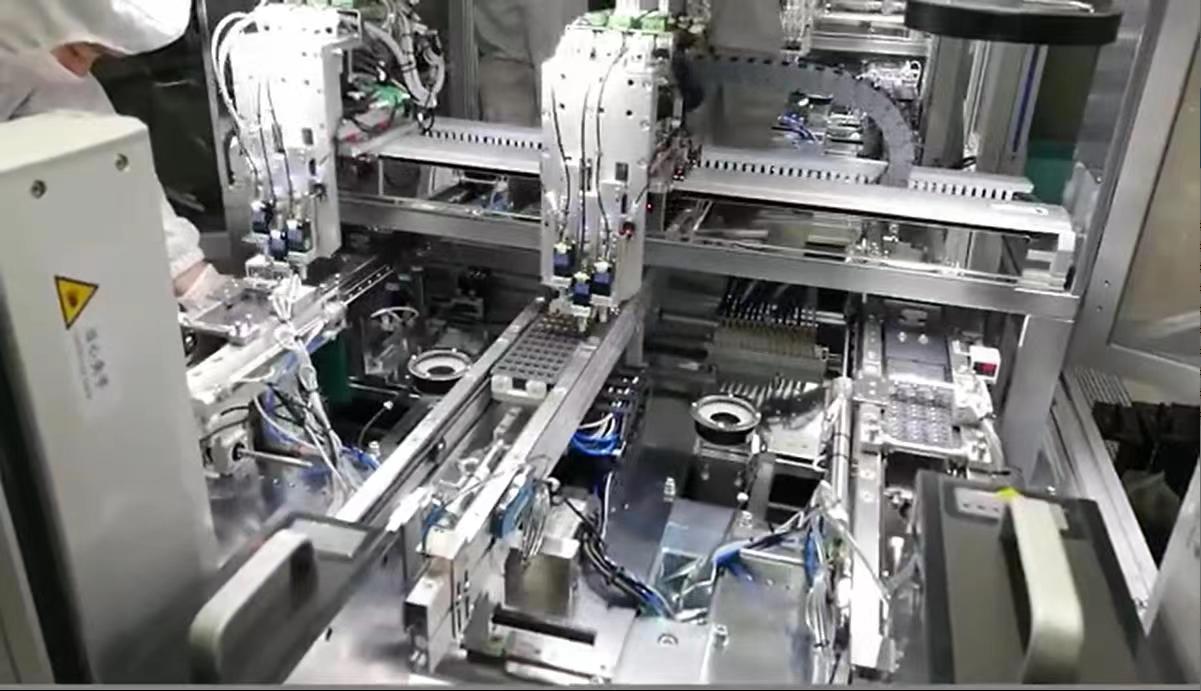 Using E600i series industrial computers of Future Robot has the following advantages:
(1) Powerful, stable and reliable: E600i Series Embedded Industrial computers are based on Intel Tiger Lake-U platform processors, with powerful performance, capable of fast and stable data transmission and instruction interaction, and flexible applications in different industrial scenarios.
(2) Integrated design and easy installation: Fanless and compact design, the E600i Series Embedded Industrial Computers are equipped with all necessary interfaces, which can be directly connected to field devices, and is easy to install, simplifies the field layout, and greatly improves production. Line efficiency provides a stable and smooth operation platform for field equipment and realizes precise control of the machine.
(3) It is not easy to interfere and has strong pressure resistance: E600i Series Embedded Industrial Computers have passed strict environmental tests and can work under wide temperature conditions. It is suitable for use in industrial production scenarios under severe conditions to ensure the stable operation of the production line.
(4) Rich interfaces and customized services: E600i Series Embedded Industrial Computers have rich interfaces, and can meet the needs of industrial production by tailoring the most suitable products for customers.
At present, E600i Series Embedded Industrial Computers of Future Robot have been widely used in the field of industrial automation and can be used in a variety of industrial scenarios, contributing to the realization of "factory intelligence".